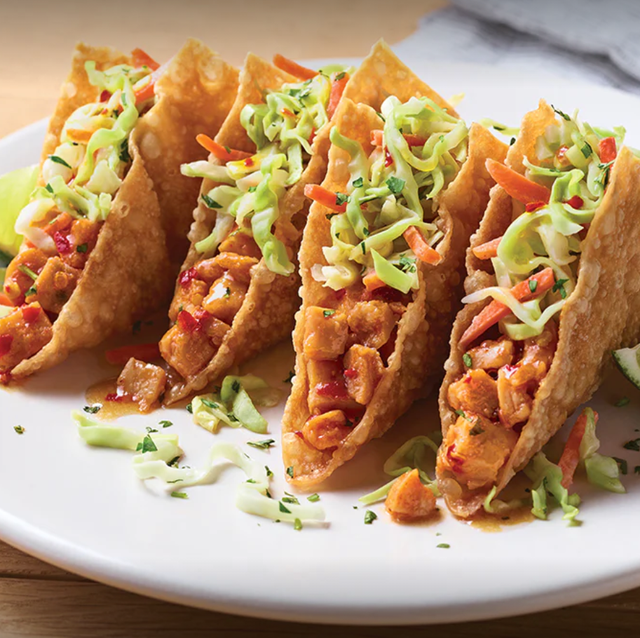 Applebee's
You know that feeling when you want to dine out, but don't feel like throwing on heels and a dress, but also don't want to order takeout…Not just me, right? Well those moments call for Applebee's, casual dining at its finest. Applebee's offers an array of American homestyle dishes, like four cheese mac & cheese, sirloin steak, a quesadilla burger, and more. Plus, it's totally acceptable to show up in your sweatpants, so what's not to love?
But with so many tasty options on the menu, it can be pretty easy to overdo it. Yep, I'm not ashamed to admit I've tried to eat the appetizer sampler all alone. That's why I asked a nutritionist for some advice about how to enjoy my Applebee's while still keeping things fairly healthy.
"As long as you're making smart choices and adding your fair share of vegetables and lean protein, there's no reason why you can't go out to eat and have a good time without derailing your health goals," says Amanda Holtzer, RD.
The fast casual chain actually has plenty of options to choose from whether you're trying to lose weight, stick to your keto diet, or just generally eat better.
One thing you should keep in mind, though, is the meal's sodium and saturated fat content. "The daily recommended limit of sodium is 2,300 mg per day, but many fast food items have way more than that," explains Holtzer. Too much sodium and fat is linked to serious medical conditions like heart disease and stroke.
These nutritionist-approved items will make dining at Applebee's even more of a no-brainer. Talk about a win.
Here are the 10 healthiest menu items at Applebee's.
Advertisement – Continue Reading Below
1
Best Salad: Tuscan Chicken Salad
In terms of salads to order, Holtzer loves this option because it has some great veggies for fiber and grilled chicken for protein. If you're trying to keep it low-carb, you can skip toppings like wonton crisps or croutons, too.
She also suggests ordering your dressing on the side. "It's an easy way to cut a lot of calories, fat, and sodium from your meal," says Holtzer. "Many restaurants tend to over-dress salads and over-sauce their foods. Simply asking for those things on the side can let you control how much you are eating."
Per serving: 580 calories, 37 g fat (6 g saturated), 1890 mg sodium, 22 g carbs, 7 g fiber, 10 g sugar, 45 g protein
2
Best Bowl: Tex Mex Shrimp Bowl
Mixed greens, rice, guacamole, and pico de gallo along with low-cal shrimp allows for a meal that checks off all the boxes—fat, carbs, protein, fiber. If you want to make this meal even lighter, Holtzer recommends removing the fried wonton strips.
Per serving: 710 calories, 28 g fat (4.5 g saturated), 2050 mg sodium, 90 g carbs, 9 g fiber, 6 g sugar, 30 g protein
3
Best Side: Steamed Broccoli
You can't go wrong with steamed broccoli—this delicious cruciferous veggie is chock full of nutrients and fiber. And don't think it'll taste boring, either: "This broccoli is actually seasoned with whipped butter, and tastes super flavorful," says Holtzer. "It's a great side to order if your entree doesn't have many veggies."
Per serving: 100 calories, 8 g fat (4.5 g saturated), 280 mg sodium, 6 g carbs, 3 g fiber, 2 g sugar, 3 g protein
4
Best Dessert: Brownie Bite
Sometimes you just need something to satisfy a sugar craving. Holtzer personally loves the brownie bite dessert at Applebee's. "This option is a great portion size, and is super sweet, so a couple of bites will cure that sweet tooth," says Holtzer.
Per serving: 320 calories, 15 g fat (8 g saturated), 180 mg sodium, 45 g carbs, 2 g fiber, 30 g sugar, 4 g protein
5
Best Appetizer: Chicken Wonton Tacos
Split these chicken wonton tacos with your bestie and you'll have an app that's both well-portioned and insanely yummy. "With lean protein from the chicken breast and fiber from the veggie slaw, these are dietitian-approved," Holtzer says.
Per serving: 590 calories, 27 g fat (5 g saturated), 1530 g sodium, 49 g carbs, 3 g fiber, 26 g sugar, 36 g protein
6
Best Chicken: Grilled Chicken Breast
Can't go wrong with grilled chicken: "The chicken breast provides an excellent source of lean protein, and the steamed broccoli adds fiber and micronutrients," says Holtzer. If you had a more carb-heavy appetizer and want to cut back on them in your main entree, Holtzer suggests packing half the mashed potatoes in a to-go box—enjoy those the next day!
Per serving: 570 calories, 25 g fat (7 g saturated), 1870 mg sodium, 43 g carbs, 6 g fiber, 4 g sugar, 48 g protein
7
Best Fish: Blackened Cajun Salmon
The blackened Cajun salmon is a flavorful treat with tons of protein. "This dish provides a ton of protein and omega-3 fatty acids—a.k.a., healthy fats," says Holtzer. "The fact that it's 'blackened' is great—that means it's not fried in oil."
This meal also comes with mashed potatoes and steamed broccoli (good for an extra dose of nutrients).
Per serving: 630 calories, 32 g fat (8 g saturated), 1840 mg sodium, 47 g carbs, 7 g fiber, 4 g sugar, 44 g protein
8
Best Meat Dish: 6 oz. Top Sirloin
Craving some red meat? This tender sirloin is an incredible option, and you can choose between a six-ounce portion or an eight-ounce portion depending on your appetite.
"This is such a great protein-rich entree option. The steamed broccoli offers lots of fiber and micronutrients, and the mashed potatoes are the starch," says Holtzer.
Per serving: 580 calories, 29 g fat (9 g saturated), 1960 mg sodium, 43 g carbs, 7 g fiber, 4 g sugar, 42 g protein
9
Best Kid's Menu Item: Kid's Chicken Quesadilla
Yes, you can totally order off the kids' menu—and honestly, with options like these, why wouldn't you? "The chicken quesadilla is a great option for kids and adults alike," says Holtzer. "The chicken breast provides lean protein, the cheese provides fat, and the tortilla provides a significant amount of carbs."
Holtzer also recommends ordering a side salad to boost the veggie content of your meal.

Per serving: 350 calories, 17 g fat (7 g saturated), 700 mg sodium, 34 g carbs, 2 g fiber, 2 g sugar, 15 g protein
10
Best Beverage: Brewed Iced Tea
For a fun drink that isn't water, this sugar-free iced tea is perfect. Since it's just freshly brewed iced tea, it's a refreshing option that isn't chock full of artificial dyes and sweeteners.
Per serving: 5 calories, 0 g fat, 0 g sodium, 2 g carbs, 0 g fiber, 5 mg sodium, 0 g sugar, 0 g protein

This content is created and maintained by a third party, and imported onto this page to help users provide their email addresses. You may be able to find more information about this and similar content at piano.io
Advertisement – Continue Reading Below
https://www.womenshealthmag.com/food/g37856306/applebees-nutrition/